We, at Miller Concepts are unwavering in our commitment to you, our clients and your needs. Our mission statement more than exemplifies this value:
"To exceed our clients' needs by providing the highest quality products at the lowest possible price."
Please feel free to scan the questions frequently asked by our customers and visitors. They have been divided into the following categories:
If you have questions that are not answered by the list below, please feel free to contact us.
---
What are your product warranties?
Our products are backed by a No Risk, unconditional 30-Day Money-Back Guarantee (less 15% restocking fee and shipping and handling). Full customer satisfaction is guaranteed with no questions asked. Furthermore, each product is guaranteed against any defect in workmanship.
---
Reasons why our products are simply the best!
These are just a few of the reasons:
Best value for your dollar, in every aspect. Compare our prices and quality.
Secure online ordering with 30-day money back guarantee.
Full catalogue online with secure shopping cart.
Imaging process applies full-color, photo quality designs to our products.
We accept , , and PayPal.
Family owned business where customer service is our #1 priority.
All our products make great gift ideas. They are also great for corporate promotions and giveaways!
---
Why do you say your product is versatile?
Our unique process allows us to personalize any of our products to suit many needs.
An artist can expand his range of products to include having his work reproduced unto license plates, decals/bumper stickers.
Organizations, institutions and associations can take advantage of our products for their fund raising activities and providing their members quality memorabilia.
Companies and corporations use our products for branding purposes, as well as promotional gift items.
The versatility of our products makes our icense plates and decals great as advertising giveaways or promotional ideas. They also make great special event favors, like weddings, baby showers, etc. And always, they make great Christmas gifts.
---
What is the difference between regular and Engineering grade reflective vinyl?
The material normally used to create signage, decals, diecut letters or shapes for both indoor and outdoor application is the regular vinyl.
The reflective vinyl used for our decals is the engineering grade beaded plastic material that renders high retro-reflectivity at night.
Please see the difference between the regular vinyl and reflective vinyl with normal lighting and with flash/light.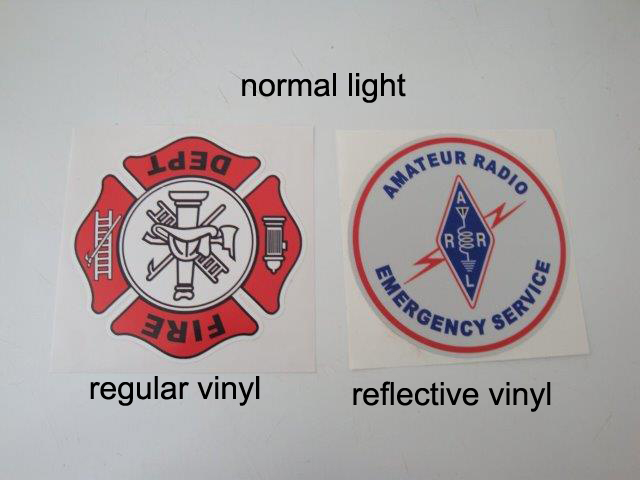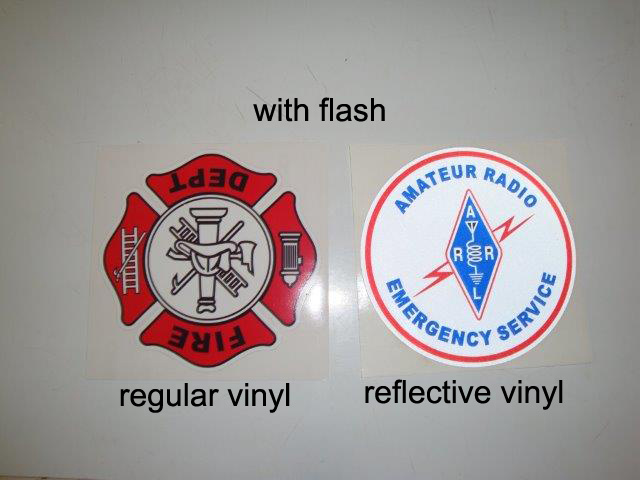 (Note: Do not confuse Engineering Grade Reflective vinyl with other Prismatic materials like the following:)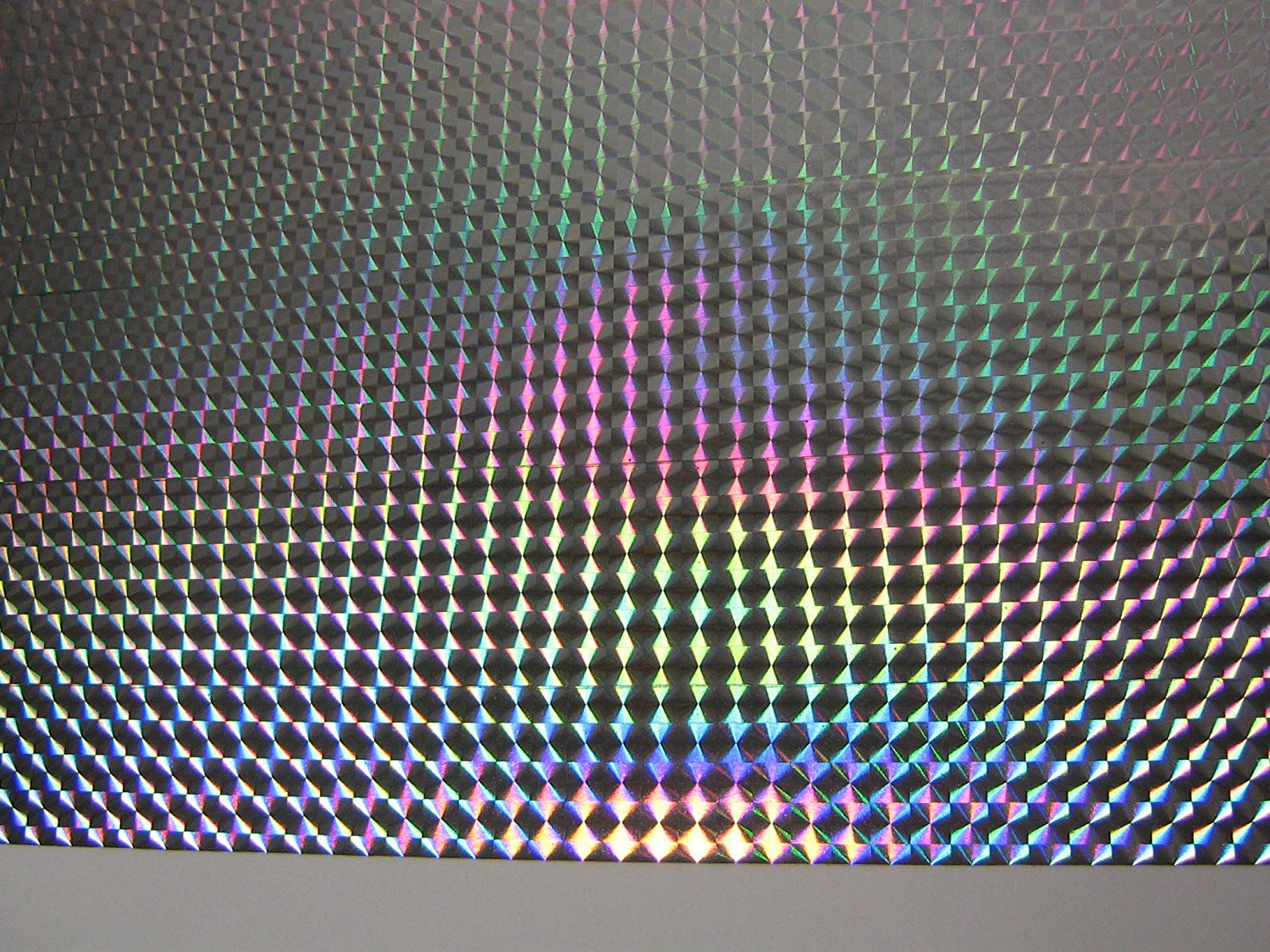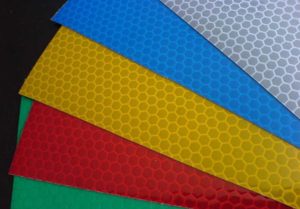 ---
What sets your License Plates apart from the others?
Our line of Vanity License Plates are made of non-rusting, heavy gauge .025" aluminum; they have brilliant colours and won't ever rust.
Our license plates are also laminated for further protection against bugs, pebbles and the sun
Our process reproduces the designs on the License Plates in full vibrant colors and photo quality images.
They are not good only for the front of your car, but they also make nice room decor. They certainly make for unique gifts for all occasions.
Available in engineering grade reflective vinyl (like those used in law enforcement) for superior visibility even at night.
Personalized License Plates are also made possible by our versatile process at very reasonable prices. Read more about personalizing your License Plates.
---
Tell me about your License Plate Frames
We are sorry to say, we no longer make License Plate Frames.
---
What are the material used for your decals?
Our line of Decals/Stickers are made from high quality materials manufactured for outdoors that will last for years.
These decals may be applied to any flat/smooth surface indoors/outdoors.
Our process reproduces the designs on the Decals/Stickers in full vibrant colors, and photo quality images.
They are not good only for your car, but they also make nice house and room decor and for all kinds of labeling.
They make for unique and inexpensive but thoughtful gifts for all occasions.
We make decals from the following materials:
Regular Vinyl. Our most popular choice which is great for bumper stickers or applying to the outside of glass or on any smooth surface. Indoor or outdoor and weather proof.
Engineering Grade Reflective Vinyl. The same type of material used on Police and Fire/Rescue vehicles and meant to be placed on the outside. Highly reflective at night. The lighter the color, the more reflective it is
Important : DO NOT POWERWASH the decals. Do not use harsh chemicals (e.g. solvents) or scour/abrasive pads to clean the decals. All our decals are scratch resistant, not scratch proof.
Personalized Decals/Stickers are also made possible by our versatile process at very reasonable prices. Read more about personalizing your Decals/Stickers here.
---
How to apply large decals
Make sure you are not in a windy area before you start.
Clean the surface where the decal is to be applied to with soapy water making sure to dry properly so no residue remains.
Use a spray bottle with soapy water (1 or 2 drops of dish detergent) and lightly spray the area that the decal is to be applied to.
Gently remove the decal off its backing paper completely (being careful not to tear the decal) and lightly spray the adhesive side of the decal. (Please note, reflective vinyl is made by mixing glass beads in the pigment of the face film. Be extra careful when peeling the decal from its liner, as the glass beads can easily tear into the vinyl).
Lay the decal on the surface of the area to be applied to. The wet area will allow you to move the decal around until it is in the position you require.
Using a small squeegee or the edge of a credit card, wrapped in a soft cloth so as not to scrape/damage the image, start from the middle and squeegee the soapy water to the edge. Do not use excess force as to force out the soapy liquid or trapped air, as this will scratch the decal.
Once you have removed all the water, wipe dry and let it stand for a few hours so the adhesive will set.
That's it!
---
What is your Shipping Cost?
We ship only to the US and Canada. All orders ship free. Please note we do not and will not use courier services, even if you have an account with them.
Please read our Return Policy for product returns.
---
What is the means by which you ship our orders?
All orders are shipped by surface mail unless a faster service at comparable rate is available.
---
Is there a tracking number?
The free shipping service does not include tracking information.
We offer shipping with tracking information following the rates below:
| | | |
| --- | --- | --- |
| Destination | First Item | Each subsequent items |
| US | $23 | $1 each |
| Canada | $23 | $1 each |
Tracking information will be provided to you when your order is shipped.
---
How long does it take for you to ship my order?
We usually ship within 24-72 hours after receiving your order, except over the weekend and holidays where you add the corresponding number of days to delivery time. Larger orders may take more time.
Generally, orders placed before 10 am EST will ship the next business day. We ship Monday to Friday only. Orders placed after 10 am on a Thursday will ship Monday the next week.
We email you when there is a delay in sending your order and email you as well, when we've sent it off.
---
How long does it take for our orders to get to us?
Excluding the Christmas season where all shipments are liable to be a few days late, our experience is, shipment within North America takes anywhere from 10-15 business days (count Monday through Friday only, exclude holidays as well).
On rare occasions, delivery has been known to be delayed as much as 30 days. An example of how this could happen, is when the package is misrouted to another province or state, where the error is discovered when there is an attempt to deliver the package (2 weeks). The package is then put back into the postal transit system going to the appropriate province or state until it gets delivered (another 2 weeks).
---
Holiday Shipping?
We do not guarantee Holiday shipping delivery. Please make sure you allow for enough time (1-2 weeks within Canada and 2-3 weeks in the US) plus possible delays due to weather and shipment volumes.
---
Do you wholesale?
A large percentage of our total business is wholesale.
We welcome interested resellers and will be glad to be your partner for a successful business venture.
We also do custom wholesale orders specific to your needs. For example, we reproduce artwork and photographs of artists and photographers on our products with small run requirements and at reasonable prices. We provide the same service for companies who use our products for reselling and for promotional giveaways.
Our prices are as follows:
Website prices
SIZES
REGULAR (Each)
REFLECTIVE (Each)
10 PK OF 2"
$16.50
$27.50
2 PK OF 3"
$10.00
$13.50
5"
$9.50
$13.00
8"
$14.50
$17.50
10"
$17.50
$20.00
Free Shipping (No tracking). Taxes extra where applicable. Tracking info available for extra fee
Our wholesale pricing are as follows:
WHOLESALE Prices (Discount off Website Prices)
Quantity
% Discount
25-49
15%
50-100
25%
101 UP
35%

Minimum quantity for custom decal order = 100; All others, custom or otherwise, 25 only
10 PK of 2" or 2 PK of 3" count as 1 in quantity. EG, 100 pieces of 2" decals count as 10 (x10 PK of 2"), while 100 pieces of 3" decals count as 50 (x2PK of 3")
Quantities of different sizes and materials count towards quantity discounts. EG, 50 pieces of 5" regular, 25 pieces of 5" reflective and 52 pieces of 3" regular (counts as 26 units of 2PK of 3") = 101
Free Shipping with tracking.
Taxes extra where applicable.
No returns or refunds.
Note: Prices subject to change without notice
Please contact us for more information.
Do you charge Sales Tax?
For orders shipped outside of Canada, there is NO sales tax.
However, items shipped within Canada are charged GST or HST, as follows:
| | |
| --- | --- |
| Provinces/Territories | GST or HST charged |
| Alberta, Manitoba, Quebec, Saskatchewan, British Columbia | 5% |
| Prince Edward Island, New Brunswick , Newfoundland, Nova Scotia | 15% |
| Northwest Territories, Nunavut, Yukon Territory | 5% |